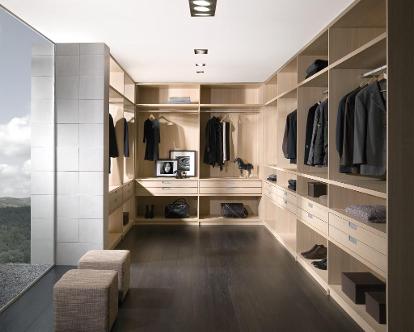 Kleiderhaus Fitted Walk In Wardrobes
A walk in wardrobe might seem like something out of a film but they're fast becoming an extremely practical storage option to any home. Perhaps most people think they need a large property to house a Fitted Walk In Wardrobe however using the bespoke joinery skills of Kleiderhaus could mean fitting a made to measure furniture solution to any size space, no matter how awkward it may seem.
When making a mark on a home storage is generally important to many people. Having order and simplicity for a person's belongings could play a big part in the smooth running of a home. As a result when it comes to planning what belongings go where it is worth taking some time over and ensuring a home has optimum storage and a place for everything.
As bespoke joinery specialists we strive to provide the very best Fitted Walk in Wardrobes in terms of style, finish and functionality. We Cover London and all surrounding areas.
We recognise how important it is to be able to personalise a home and as such we have a huge amount of choice available to enable clients to design their own walk in closet solution. We will work with clients to create the ultimate in modular walk in systems, even to the most unlikely of places. Whether you are looking for a walk in wardrobe for an existing fitted bedroom or to create a brand new design from scratch then we can help.
Our bespoke joiners can create any kind of walk in wardrobe or dresser using materials chosen by you such as laminate, sprayed panels, leather, glass, acrylic gloss panels and more. In terms of style we can deliver on any classic, contemporary, minimalist or budged wardrobe and we also offer aluminium walk in wardrobes too.
In terms of adding finishing touches or accessories to the end result we know our customers like to get creative which is why we offer complete flexibility from beginning to end. As well as being able to spay panels and glass to any colour we can also offer the very best in Italian and German accessories like soft close drawers, tie and belt organisers and internal and external led lighting.
To discuss these options for bespoke furniture and more we would be delighted to discuss details of your project - contact us today.
What Are The Benefits Of Fitted Wardrobes?
Maximise your available space - Fitted Walk In Wardrobes are, as name suggests, made to precisely fit the dimensions of your room. Not only does this mean there are no awkward spaces in between pieces of furniture, but it also allows you to make the most of every scrap of available space in your bedroom.
Low maintenance - Not only will Fitted Walk in Wardrobes make your room look great, but they are also incredibly easy to maintain. Unlike free standing wardrobes, Fitted Bedroom Hinged Door Wardrobes will be installed from the floor or the ceiling, meaning dust will never gather on the top.
Increase your storage options - Fitted Walk in Wardrobes offer exceptional storage spaces because they make the most of the dimensions of your room and are tailored to your individual needs.
Bespoke to your requirements - What enables Fitted Walk in Wardrobes to offer all the benefits mentioned above is that they are created to your bespoke specifications and adapted to your requirements. This makes the finished results completely individual and highly practical, as well as making sure the Wardrobes accurately reflects every single one of your needs.
In addition, there are wide range of designs and styles available, that enable clients to know the greatness on choosing Fitted Made to Measure Walk In Wardrobes.
All you need to do is click BOOK FREE DESIGN VISIT button and fill design visit form that dream Fitted Wardrobes you've been scouting for!
Whether Small Or Big Your Project, We'll Help You Get It Done.
Quickly And For Affordable Price!!!
Unit 75-77 Murdock Road, Manton Industrial Estate, Bedford, MK41 7PL | 0207 0961860