Fitted Sliding Wardrobes - Custom Solutions for Your Space in Bedford, Milton Keynes, Luton, Watford, Cambridge, and London
KleiderHaus - UK Based B
espoke Fitted Sliding Wardrobe Manufacturer
Welcome to Kleiderhaus, the leading provider of bespoke fitted sliding wardrobes and Sliding doors in Bedford, Milton Keynes, Luton, Watford, Cambridge, and London. Our expert team specialises in designing, manufacturing, and installing fitted sliding wardrobes that are tailored to fit any space, style, or budget. With our commitment to quality and customer satisfaction, you can trust us to transform your bedroom into a functional and stylish haven.
Experience the Kleiderhaus Difference: When you choose Kleiderhaus for your fitted sliding door wardrobes, you're not just investing in exceptional craftsmanship and functionality. You're also benefiting from our commitment to delivering outstanding customer service and satisfaction. Our team of experts will guide you through the entire process, ensuring that your vision becomes a reality.
Contact us today to schedule a consultation and let our designers help you create the fitted wardrobes of your dreams.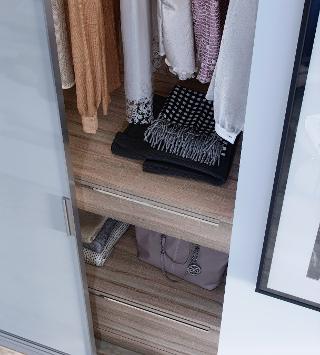 See Our Fitted Sliding Doors
Advantages of Fitted Sliding Wardrobes
Durability and Guarantee: We take pride in the quality of our products. All our sliding doors and fitted sliding wardrobes are crafted using premium materials, ensuring long-lasting durability and functionality. To give you peace of mind, we provide a comprehensive 15-year guarantee on all our products.
Seamless Integration: As a full-service provider, Kleiderhaus handles every aspect of the process, from design to installation. Our experienced team ensures a seamless integration of your fitted wardrobes into your space, resulting in a flawless and aesthetically pleasing finish.
Customisation: Our fitted sliding wardrobes are custom-made to your exact specifications. Whether you have an awkward space or unique design preferences, our skilled designers will create a solution that maximises storage while enhancing the aesthetics of your room.
Space Optimization: Fitted wardrobes utilise every inch of available space, making them ideal for bedrooms of all sizes. With clever design features like built-in shelves, hanging rails, and drawer systems, you can organise your belongings efficiently and keep your room clutter-free
Endless Design Possibilities: With our bespoke fitted wardrobes, you have a wide range of design options at your disposal. Choose from a variety of materials, finishes, and accessories to create a wardrobe that perfectly complements your personal style. From sleek and modern to classic and timeless, our designs can be customized to reflect your unique taste.
All our sliding doors is completely bespoke and made to measure to meet everyone expectation and needs, we can supply and fit our sliding doors to customers with any budget, we have over 1000 finishes to choose from, so it will definitely meet every clients style and budget needs.
we supply budget mirror, glass and wood grain doors to leather and high gloss luxury doors, so all of our clients have complete freedom to create unique, stylish and their budget meeting sliding doors.
Let Us Design Your Dream Sliding Doors - Contact Us Now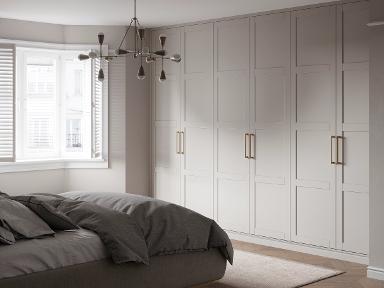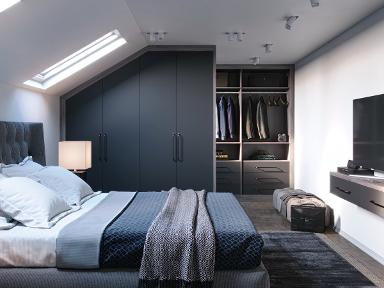 Sliding doors can be used as room dividers as well as wardrobe and any other storage or display unit door, sliding doors also can be used under sloping ceiling or most other awkward spaces! For more information and advice about all our products please call us on 0207 0961860 or email to info@kleiderhaus.co.uk.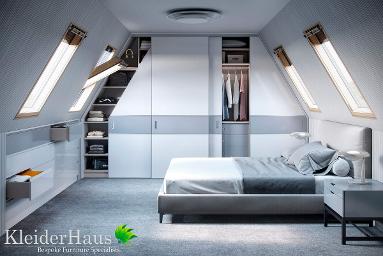 Sloping Ceiling Sliding Doors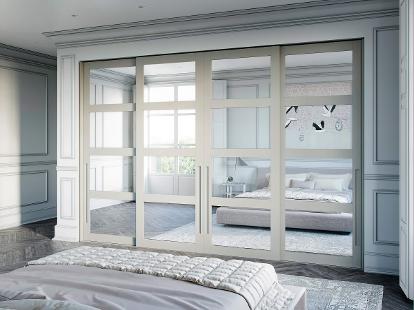 Natural Wood Veneer or Hardwood Frame Doors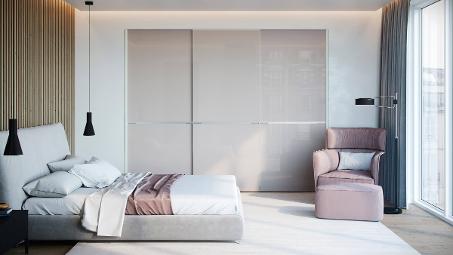 Aluminium Frame Sliding Doors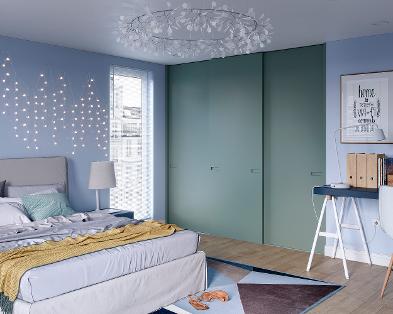 Whether Small Or Big Your Project, We'll Help You get It Done.
Quickly And For Affordable Price !!!
Unit 75-77 Murdock Road, Manton Industrial Estate, Bedford, MK41 7PL | 0207 0961860