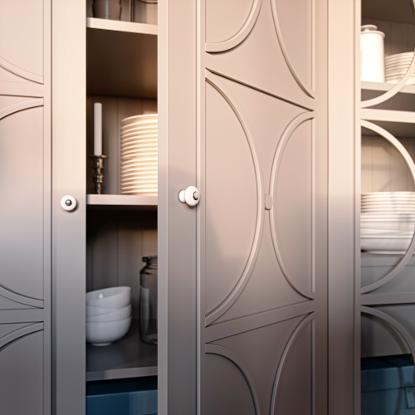 Kleiderhaus Fitted Hinged Wardrobes
Welcome to Kleiderhaus, your destination for exquisite Fitted Hinged Wardrobes. As a renowned bespoke wardrobe designer, manufacturer, and installer, we pride ourselves on delivering exceptional craftsmanship and personalised solutions. Our Fitted Wardrobes are meticulously designed to transform your space, providing optimal storage and functionality. With a wide range of styles, finishes, and configurations available, our Fitted Hinged Wardrobes are tailored to your exact requirements. Rest assured, all our wardrobes come with a comprehensive 15-Year Guarantee, reflecting our commitment to superior quality. Whether you're in Bedford, Milton Keynes, Luton, or London, Kleiderhaus is your trusted partner for beautifully crafted Fitted Wardrobes that enhance your home.
Welcome to Kleiderhaus, where Fitted Hinged Wardrobes redefine your living space. As a leading brand in bespoke fitted wardrobes, we offer an unparalleled level of craftsmanship and attention to detail. Discover the advantages of choosing our fitted wardrobes over traditional freestanding options.
One of the key benefits is our commitment to customisation. Our fitted wardrobes are meticulously designed and tailored to your exact specifications. Whether you have an awkward space, unique room layout, or specific design requirements, we can create a wardrobe that fits seamlessly, utilising every inch of available space. Unlike freestanding wardrobes, our fitted wardrobes provide a made-to-measure solution that maximises storage capacity and optimises functionality.
In addition to their precise fit, our fitted wardrobes offer a wide range of design possibilities. With an extensive selection of colours and finishes, including Melamine, Wood Veneer, Acrylic gloss or matt panels, and stunning Lacquered spray painted finishes available in a rainbow of shades, you can customise your wardrobe to perfectly complement your interior decor and personal style. This level of personalisation is simply not possible with standard freestanding wardrobes.
When it comes to quality, our fitted wardrobes excel. We pride ourselves on using the highest quality materials and accessories to ensure durability and longevity. From soft closing hinges and under-mounted drawer runners to LED lighting, jewellery storage drawers, and shoe racks, every detail is carefully considered to enhance the functionality and aesthetics of your wardrobe.
Furthermore, our fitted wardrobes come with a 15-year guarantee, giving you peace of mind and assurance of their exceptional quality and durability. Our commitment to customer satisfaction extends beyond the initial installation, as we provide excellent customer service throughout the entire process.
By choosing Kleiderhaus for your fitted wardrobes, you are investing in a bespoke solution that combines functionality, style, and durability. Say goodbye to generic freestanding wardrobes and embrace the elegance and functionality of our tailored fitted wardrobes. Experience the difference of a wardrobe that is designed and crafted specifically for you.
Experience the Benefits of Fitted Wardrobes for Your Home
Optimal Use of Space: Unlike freestanding wardrobes, fitted wardrobes are designed to fit seamlessly into your available space. Whether you have an awkward corner, sloping ceiling, or irregular room layout, our expert designers will maximize every inch of space, ensuring no area goes to waste. With cleverly designed compartments, shelves, and hanging rails, you'll enjoy a wardrobe that perfectly accommodates your storage requirements.
Customisation and Personalisation: With fitted wardrobes, you have the freedom to customize every aspect. From choosing the materials, colours, and finishes to selecting the style and configuration, our team will work closely with you to create a wardrobe that reflects your personal taste and complements your interior design. Whether you prefer a modern, minimalist look or a classic, traditional aesthetic, our bespoke solutions ensure a perfect fit for your home.
Ample Storage Capacity: One of the primary advantages of fitted wardrobes is their ability to provide ample storage capacity. By utilizing the entire height and width of your wall, fitted wardrobes offer more storage space compared to freestanding alternatives. With dedicated compartments for clothing, accessories, shoes, and more, you can keep your belongings organized and easily accessible, reducing clutter and creating a tidy, harmonious environment.
Enhanced Functionality: Fitted wardrobes are designed with your specific needs in mind. We offer a wide range of interior fittings and accessories, such as pull-out shoe racks, tie and belt organizers, jewelry drawers, built-in mirrors, and integrated lighting options. These thoughtful additions enhance the functionality of your wardrobe, making it easier to find and access your belongings while adding a touch of luxury to your daily routine.
Seamless Integration with Your Home: Fitted wardrobes seamlessly blend into your existing decor, creating a cohesive and harmonious look throughout your space. Whether you prefer a contemporary, minimalist design or a more traditional aesthetic, our skilled craftsmen will ensure that your fitted wardrobe complements the overall style of your home, enhancing its visual appeal.
Long-lasting Durability: At Kleiderhaus, we take pride in using only the highest quality materials and components. Our fitted wardrobes are built to withstand the test of time, offering long-lasting durability and reliability. With our 15-year guarantee, you can have peace of mind knowing that your investment is protected.
Transform your living space with the benefits of fitted wardrobes. Our expert team at Kleiderhaus is dedicated to creating bespoke solutions that perfectly suit your needs and elevate your home. Contact us today for a free design consultation and discover the endless possibilities of fitted wardrobes.
Whether Small Or Big Your Project, We'll Help You Get It Done.
Quickly And For Affordable Price!!!
Unit 75-77 Murdock Road, Manton Industrial Estate, Bedford, MK41 7PL | 0207 0961860