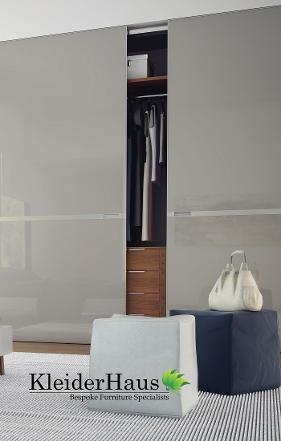 Kleiderhaus Fitted Sliding Wardrobes
If you have a contemporary Home you could choose a Fitted Sliding Wardrobe unit to use in it. The wardrobes are sleek and stylish in design. On top of this, they can be used in a bedroom or family room area. The wardrobes provide additional space where you can store clothing and other items. This is beneficial if you have existing closets that are overstuffed with items you don't want lying out in plain view. The Sliding Door styles are made for the modern design home and can even fir nicely into the decor of a home office.
The doors of the fitted wardrobes can come as wood finishes or mirror and panel finishes. The Sliding Door panels can also be custom made to use glass in a single or multi-panel design. The units designed with a black edge frame and colored glass panels are similar to the Asian style of fine furniture. These wardrobes add a nice touch to your room's decor in addition to providing practical space for storage. If you need more drawer space you can get the styles with one side for hanging up clothes and one side with drawers.
The styles of the wood fitted sliding wardrobes are light and contemporary in appearance so they can fit in with a family room. When choosing the type of wardrobe you want, you should consider the area where it will be used and what it will be used for. If you decide to have the wardrobe custom made, the Kleiderhaus - UK based bespoke sliding door and furniture manufacturer will provide you with any kind of Fitted Sliding wardrobes and all Kleiderhaus clients have complete freedom to create sliding wardrobes their ways.
We cover Bedford, Milton Keynes, Cambridge, Northampton, London and all surrounding areas. Call us now to book Free no Obligation Design Visit!
Fitted Sliding Wardrobe Gallery
What to expect with fitted sliding wardrobe doors
At Kleiderhaus, we specialise in creating stunning fitted sliding wardrobes that not only enhance the functionality of your space but also elevate the style and aesthetics of your room. With our expertise in bespoke design and precision craftsmanship, we bring you a range of benefits that you can expect when choosing fitted sliding wardrobe doors.
Maximised Space Utilisation: One of the key advantages of fitted sliding wardrobe doors is their ability to maximize space utilization. Unlike traditional hinged doors that swing open, sliding doors glide effortlessly along a track, allowing you to make the most of every inch of available space. This is particularly beneficial for smaller rooms or those with limited floor space, where every square foot counts.

Sleek and Modern Design: Fitted sliding wardrobe doors offer a sleek and modern design that adds a touch of sophistication to any room. With their smooth, clean lines, they create a contemporary and uncluttered look, contributing to an overall sense of style and elegance. Our bespoke sliding doors are available in a variety of finishes, colours, and materials, ensuring a perfect match for your interior décor.

Quality Craftsmanship and Durability: At Kleiderhaus, we take pride in our commitment to exceptional craftsmanship and quality. Our fitted sliding wardrobe doors are built to last, utilising high-quality materials and precise manufacturing techniques. We stand behind the durability of our products, offering a 15-year guarantee on all our fitted wardrobes, including the bespoke sliding doors. This guarantee provides you with peace of mind and reassurance in the longevity and performance of your investment.
Easy Accessibility and Organisation: With fitted sliding wardrobes and sliding doors, accessing your belongings becomes effortless. The sliding mechanism allows for smooth and silent operation, giving you quick and easy access to your clothing, accessories, and personal items. Additionally, our bespoke designs incorporate clever storage solutions, such as adjustable shelves, hanging rails, shoe racks and specialised compartments, ensuring optimal organisation and maximising storage capacity.

Customisation to Suit Your Needs: We understand that each individual has unique requirements when it comes to their built-in wardrobe. That's why our fitted sliding wardrobes are fully customizable. From choosing the dimensions and layout to selecting the materials and finishes, we work closely with you to create a wardrobe solution that perfectly suits your lifestyle, preferences, and available space. Our expert designers will guide you through the process, ensuring that every detail is tailored to your exact specifications.

Experience the Kleiderhaus Difference: When you choose Kleiderhaus for your fitted sliding wardrobes, you can expect superior design, personalised solutions, and excellent customer service. Our team of experienced professionals will work closely with you, ensuring a seamless and hassle-free experience from concept to installation.
Discover the transformative power of fitted sliding wardrobe doors with Kleiderhaus. Contact us today to schedule a consultation and let us help you create a functional and stylish storage solution that exceeds your expectations.
Why choose wardrobes with sliding doors?
You might consider these reasons as potential triggers for you to opt for sliding doors as opposed to fixed door solutions.
Most housed today are built with smaller area, smaller dining space, smaller kitchens and generally less spacious rooms. Having smaller rooms can give you problems on how you are going to hide away from view all your things without making the place disorientated. Putting up big freestanding cabinets can be space consuming and may block other furnishings inside a room. Built-in sliding wardrobes are helpful to arrange your belongings in a certain place and locate is easily when needed. It aims to maximise space inside a room.
What Are The Benefits Of Fitted Wardrobes?
Maximise your available space - Fitted Sliding Wardrobes are, as name suggests, made to precisely fit the dimensions of your room. Not only does this mean there are no awkward spaces in between pieces of furniture, but it also allows you to make the most of every scrap of available space in your bedroom.
Low maintenance - Not only will Fitted Sliding Wardrobes make your room look great, but they are also incredibly easy to maintain. Unlike free standing wardrobes, Fitted Bedroom Hinged Door Wardrobes will be installed from the floor or the ceiling, meaning dust will never gather on the top.
Increase your storage options - Fitted Sliding Wardrobes offer exceptional storage spaces because they make the most of the dimensions of your room and are tailored to your individual needs.
Bespoke to your requirements - What enables Fitted Sliding Door Wardrobes to offer all the benefits mentioned above is that they are created to your bespoke specifications and adapted to your requirements. This makes the finished results completely individual and highly practical, as well as making sure the Wardrobes accurately reflects every single one of your needs.
In addition, there are wide range of designs and styles available, that enable clients to know the greatness on choosing Fitted Made to Measure Hinged Door Wardrobes.
All you need to do is click BOOK FREE DESIGN VISIT button and fill design visit form that dream Fitted Wardrobes you've been scouting for!
Whether Small Or Big Your Project, We'll Help You Get It Done.
Quickly And For Affordable Price!!!
Unit 75-77 Murdock Road, Manton Industrial Estate, Bedford, MK41 7PL | 0207 0961860