Fitted Bi Folding Wardrobes
Fitted Bi Fold Door Wardrobes
When bedroom space is at a premium with little room for manoeuvre, then bi fold door wardrobes could offer the best of both worlds without sacrificing valuable storage space. Wardrobes are typical of most UK bedrooms and some people have fitted wardrobes whereas others have a free standing wardrobe. However, when space is tight or finding room for furniture is a struggle a fitted bi folding wardrobe might offer a space saving solution.
At Kleiderhaus we offer bi folding wardrobes that are designed to suit our clients exact needs. As bespoke furniture experts we fully expect our designs to take away the stress of managing a bi fold door wardrobe installation. As made to measure furniture specialists we understand what our clients want and why and we aim to deliver every time be that for fitted wardrobes or another type of bespoke joinery service.
Our joinery expertise stands us in good stead for creating a bi fold door wardrobe system that is both high quality and fit for purpose. Kleiderhaus uses only the best quality bi fold systems and German and Italian accessories from led lighting indoor and outdoor to soft close drawers and shoe racks. In terms of style we can also offer any choice of colour, finish or style, for instance we offer contemporary, Victorian and classic designs and much, much more.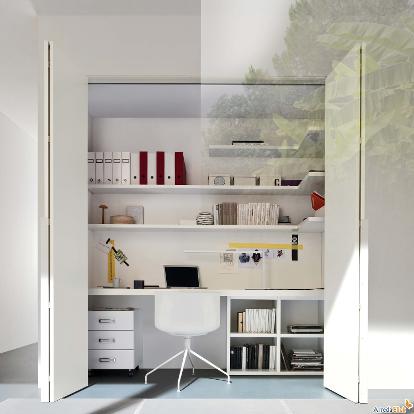 In terms of starting work on a bi fold door wardrobe project we understand that time is precious without compromising on quality. We strive to offer the best service possible which is why we liaise with you every step of the way and offer the ultimate in flexibility by offering the ability to spray panel in every colour. A bi fold door can be extremely practical in a small home or in one with an unusual layout. Here we can offer each of our clients a professional service that is second to none as we recognise quality service and a quality product sets us apart.
Contact us today if you think a bi fold wardrobe might be the choice for you, we would be delighted to discuss you options and talk today.
What Are The Benefits Of Fitted Wardrobes?
Maximise your available space - Fitted Wardrobes are, as name suggests, made to precisely fit the dimensions of your room. Not only does this mean there are no awkward spaces in between pieces of furniture, but it also allows you to make the most of every scrap of available space in your bedroom.
Low maintenance - Not only will Fitted Wardrobes make your room look great, but they are also incredibly easy to maintain. Unlike free standing wardrobes, Fitted Bedroom Wardrobes will be installed from the floor or the ceiling, meaning dust will never gather on the top.
Increase your storage options - Fitted Wardrobes offer exceptional storage spaces because they make the most of the dimensions of your room and are tailored to your individual needs.
Bespoke to your requirements - What enables Fitted Wardrobes to offer all the benefits mentioned above is that they are created to your bespoke specifications and adapted to your requirements. This makes the finished results completely individual and highly practical, as well as making sure the Wardrobes accurately reflects every single one of your needs.
In addition, there are wide range of designs and styles available, that enable clients to know the greatness on choosing Fitted Made to Measure Wardrobes.
All you need do is click BOOK FREE DESIGN VISIT button and fill design visit form that dream Fitted Wardrobes you've been scouting for!
Whether Small Or Big Your Project, We'll Help You Get It Done.
Quickly And For Affordable Price!!!
Unit 75-77 Murdock Road, Manton Industrial Estate, Bedford, MK41 7PL | 0207 0961860