FITTED HOME OFFICE FURNITURE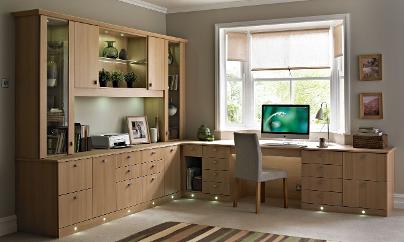 FITTED OFFICE FURNITURE
Home Office Furniture is becoming more of necessity than luxury. However, many people are not home prepared to use the cheap type of flat-pack furniture that was once the norm for home offices, and are seeking a higher quality, just like the rest of the furniture in their home. Perhaps when working from home either for your own business, using fitted furniture to create the perfect working environment is ideal and great for making the most of the space you have.
Kleiderhaus Fitted Home Office London will work with you to create your ideal working environment, whether you require a complete home office, commercial office space or an office integrated into an existing area of your home. Whether your requirements, we are fully equipped to undertake any size project from a new reception desk to a full office, ensuring that your furniture has the functional and artistic touches you require.
We offer individually designed and intelligent Fitted Home Office, from unit height to worktop depth and from monitor position to storage reach, every item is designed with your comfort and well being in mind.
We also ensure that each element of your home office will be specified to the highest high standard. Your filing drawers will be designed to a great load capacity, catering for all your storage and filing requirements.
Kleiderhaus designs on Fitted Home Office Furniture are suitable and convenient for everyday life. What better way to make business a pleasure than with a carefully designed, purpose-built, bespoke Home Office by Kkeiderhaus.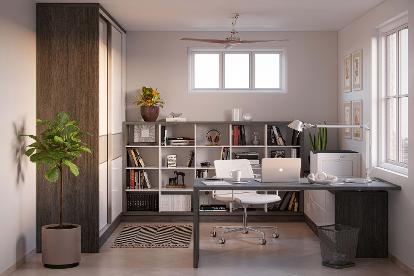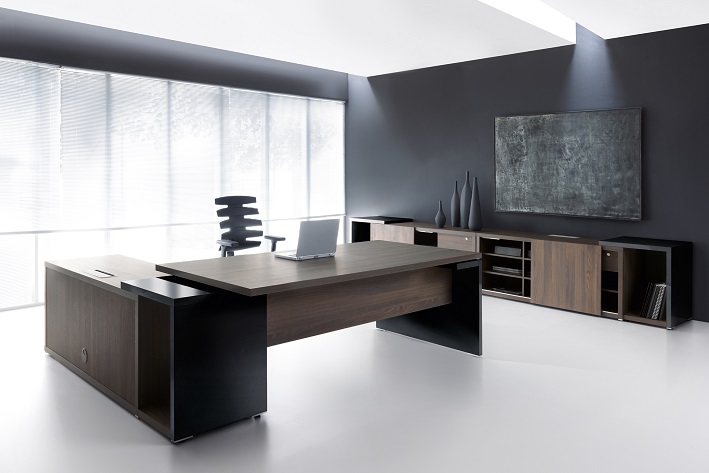 Choosing the Right Home Office Furniture
When it comes to setting up an office, whether in your home or in a more traditional business setting, one of the things that many people overlook is their office furniture. This can include your Desk, office chair, Bookcases, Filing Cabinets and other pieces of furniture. But putting a bit of thought into what you put into your office can pay off in spades when it comes to increased comfort and productivity.
Looking at the desk and chair which are probably the most important pieces of Furniture you'll be choosing. If you're a typical "information worker" you'll be spending a great deal of your time sitting at your desk. If these two pieces of furniture are not ergonomically sound, with the proper sizes and adjustments for your particular needs, you will find your day uncomfortable and it might even lead to health problems.
Over the last couple of decades, ergonomics has become a critical factor to consider for the average office worker. Because the computer has become such a staple in every business, how you use it is important to your health. And it's only recently that this has become an important enough issue for people to be generally aware of it.
The office chair you choosing should have ample adjustment, to allow you to customise it to your size and body. You should be able to adjust the height of the chair, the armrests and back support. having these things in the correct position when typing for long period of time is critical to your heath.
The desk you choose should also be at the proper height for your computer monitor as well as the keyboard and mouse. Plus, you'll want to ensure you have enough storage for the tools and accessories that you use on a daily basis. You'll want them to be within easy reach when you need them.
Other pieces of Furniture, such as Filing Cabinets, give you little more freedom to choose based on style and taste. You might prefer a wood file cabinet, for example, while someone else might prefer to have the fire resistant of a metal cabinet. they both get the job done, it's really just a matter of taste.
You might even want to shoot for a particular decor in your office, such as an antique look with an antique secretary desk or some other classic piece of furniture. Just remember, if you choose these older pieces, chances are they won't be very ergonomically sound.
FITTED BOOKCASES
Fitted Bookcases are an essential additional to any home or office that wants to project an element of style and sophistication to any visitors or potential buyers; a good Fitted Bookcase can really raise the bar on the "impressing scale" of how a home makes an important on a visitor.
If you get your Bespoke Bookcases Fitted properly by Kleiderhaus, then you will soon find yourself with many if your friends and relatives admiring your taste and level of dedication to the furnishings or your home. From glass Cabinets all the way yo ivory handles, your Bookcase needs and desires will know no limits once you explore the possibilities of everything Kleiderhaus have to offer.
Kleiderhaus work specifically to each client's needs, Designing, Building and Fitting a wide range of Made to Measure Office Furniture including:
Shelving
Storage Cupboards
Workstations & Computer Desks
Bookcases
Counter Receptions
Side cupboars
No office is considerate as an office without furniture. Not only the employees feel pleasant in the presence of attractive and quality furniture but it also gives a good impression on the customers. If the appearance of the is attractive, it can attract clients as well as future employees. It is therefore very important that an office is properly arranged and furnished with appropriate furniture
Never Settle For Less! As Kleiderhaus offers you all the best you desire in Fitted Home Office Furniture.
Whether Small or Big Your Project, We'll Help You Get It Done.
Quickly and For Affordable Price!
Unit 75-77 Murdock Road, Manton Industrial Estate, Bedford, MK41 7PL | 0207 0961860