Fitted Bedrooms - Transform Your Space with Custom Furniture in Bedford, Luton, Milton Keynes, Watford, Cambridge, and London | Kleiderhaus
Welcome to Kleiderhaus, your premier destination for creating stunning fitted bedrooms in Bedford, Luton, Milton Keynes, Watford, Cambridge, and London. We specialise in designing and crafting bespoke fitted furniture that combines style, functionality, and durability. With our extensive range of products, including fitted wardrobes, bedside tables, chest of drawers, tall boys, and dressing tables, we can transform your bedroom into a beautiful and organised sanctuary.
When it comes to choosing a bedroom furniture to meet your unique needs, then it may be worthwhile looking into fitted bedrooms to see if they tick the boxes and provide you with the benefits and convenience that you are looking for.
Made to measure fitted bedroom furniture is one of those additions to a household that can really make or break a house when it is viewed by guests, friends or family, or even how you see the house yourself. It is a great addition to any household.
Kleiderhaus team of dedicated professionals focuses on customer service and helping clients get the best quality fitted bedroom that meets their unique style,needs and budget.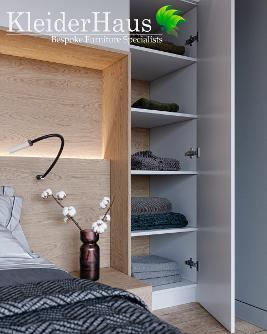 All our fitted bedroom furniture completely custom made to suit any space, style and most importantly we can work any budget.
We are UK based manufacturer which means we can supply and fit our furniture within 2-3 week, we offer completely tailored service and furniture for very competitive prices. 100% satisfaction guaranteed!
Let's Design And Built Your Dream Bedroom Together !!!
Kleiderhaus Made to Measure Fitted Bedrooms
Everyone is entitled to luxury when it comes to bedroom. One bedroom fixture which contracting companies are able to design and manufacture according to the dimensions dictated by the clients is space, fixture that has become more important in recent years. For this reason, Kleiderhaus provides its clients with cabinets of all room kinds that are totally bespoke in height, width, depth and in wide range of colours and finishes. Other varieties also are fitted sliding door wardrobes, wardrobes with sliding doors, hinged doors and bi-folding doors, chest of drawers, beds, bedside cabinets and dressing tables.
Kleiderhaus Made to Measure Bedroom Furniture are fitted for even the oddest of room shapes. These odd shapes can be where there are slopes to a ceiling where a conventional dresser or wardrobe can never fit into a space. You want to maximise the space, but with the sloped ceiling, for example, the slope is so low that nothing that is standard made at the factories would fit there. That does not look pretty at all! We all know this. All you need to solve those odd shape issues is Kleiderhaus made to measure high quality furniture.
Some rooms are filled with unusual niches that make furniture arranging a nightmare. Also, if you don't have the perfect room with ideal dimensions, you will need to apply a little creativity, in your design and decor. The way you place your furniture will have a significant impact on the overall feel of a room. Even awkward spaces can feel inviting and comfortable with a little effort.
Finally, it is of imperative importance that you get your fitted bedroom furniture fitted by a professional, seeing as they really do know best. Don't get delusions of DIY grandeur and try and do the job yourself, it will only and in tears and extra cost's!
With a little touch of kleiderhaus to your bedroom, it will come alive with interest and great design.
Whether Small Or Big Your Project, We'll Help You get It Done.
Quickly And For Affordable Price !!!